Car Parts Expert - Front spoilers
With or without TÜV certificate (Teilegutachten)
A front spoiler of Car Parts Expert gives your car a sporty appearance. Most front spoilers can be combined with sideskirts and a rear skirt, thus resulting in a complete bodykit for your car.
All our front spoilers are high quality products, made from PU-RIM or ABS unless stated otherwise. They are supplied with complete assembly kit and clear installation instructions.
Of course, a front spoiler must be painted in colour before mounting it on the car. However, you do not need to arrange this yourself, because Car Parts Expert offers an excellent Painting service with a unique customer satisfaction guarantee. The available colour options will become automatically visible after you have chosen a product in our webshop. Read more...
Front Spoilers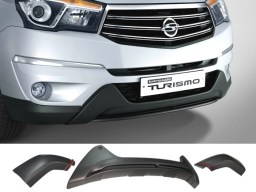 Matt black
Price (incl. 21% VAT):
€ 442,00