Hyundai i30 (PD) 2017-present 5-door & wagon exhaust trim 2x round 63 mm - connection 45-60 mm
Fits on a downward curved exhaust pipe
Fits on a downward curved exhaust pipe
This exhaust trim of Car Parts Expert is a high quality product made of stainless steel and gives your car a sporty appearance. This is a universal accessory, suitable for several car models. To be sure that the exhaust finisher fits on your car, you should pay attention to the following:
Connection diameter. The outer diameter of the exhaust pipe on your car must lie within the specification of the exhaust trim. See below under "Diameter connection".
Connection angle. Most exhaust trims are only suitable for mounting on an exhaust pipe that runs straight to the rear. Only a few exhaust finishers are suitable for an exhaust pipe that is curved downwards.
End shape and size. Make sure there is enough space left between the exhaust trim and the underside of your bumper to prevent the bumper from overheating.
Length. Most exhaust trims extend your exhaust by a few centimeters. This is almost never a problem, but sometimes a matter of taste.
Assembly is very easy; the exhaust trim is slid over the original exhaust pipe and clamped to it. It is usually not necessary to shorten the original exhaust pipe. It is advisable to check the fixation of the exhaust trim after a few kilometers driven and, if necessary, to tighten it again.
Car Parts Expert supplies exhaust trims from various brands and in different price categories. For more information click here.
Product Features:
End shape and size: oval 103x72 mm
Length: 200 mm
Material: stainless steel
Mounting method: clamp
Connection diameter: 45-60 mm
EAN: 8719457092118
Shipping costs
The shipping costs depend on the destination country and the weight and size of the parcel. The shipping costs are separately shown during the ordering process, before you pay.
For an overview of the shipping costs per country, click here. Different shipping costs apply to sidebars and roof boxes, click here for the overview.
Returns
Are you not satisfied with your purchase? Please let us know immediately by email at info@carparts-expert.com.
You can return your order within 14 days after receipt.
Returned articles must be complete and - as far as reasonably possible - in the original factory condition and packaging.
For more information about returning shipments, click here.
All product reviews collected through Trusted Shops
There are yet no reviews for this product.
Ask a question
Does this product fit my car?
Check whether your car corresponds to the description such as car brand, model, year of build and body type (hatchback, station wagon, sedan etc.):
Year of build. Example: a product fits on a car model from 2004 until 2013.

Be careful if your car is from the beginning year (example: 2004) -> your car could be the previous model -> check the Factory code to be sure.
Be careful if your car is from the ending year (example: 2013) -> your car could be the subsequent model -> check the Factory code to be sure.

Factory code. At most products this is mentioned (between brackets). You could check on www.wikipedia.org what the factory code is of your car.
Body type. Please note that a 4-doors, 5-doors or wagon are not the same.
How can I mount the product on my car?
There is a manual available online for most products. Look for the "Assembly manual" icon on the product page and click on it to open it.
When can the product be delivered to me?
Not all products are on stock; some products need a longer time before we can ship it to you. We always mention this availability, below the green order button "Add to cart".
Available from stock = the product is in stock. If you place your order before 15:00 it will be shipped on the same working day.
Shipping within: "X" working days = the product is not in stock. We strive to ship it out in "X" working days.
Do you have another question?
Please fill out the form below.
Hyundai i30 (PD) 2017-present 5-door & wagon exhaust trim 2x round 63 mm - connection 45-60 mm
Fits on a downward curved exhaust pipe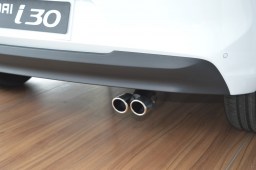 Related products
Front mask does not fit models with Fastback front bumper (e.g. Go !, Passion)
Other Exhaust trims for Hyundai i30 (PD) | 2017-present
Fits on a downward curved exhaust pipe
Other products for Hyundai i30 (PD) | 2017-present
Related categories