Boot liner universal Carbox Classic YourSize
The Carbox Classic YourSize high sided boot liner offers the ultimate protection for your boot space against dirt, fluid and damage. This boot liner not only protects the boot floor; the unique high side walls also guard the back of the rear seats and the side walls of the boot. Thanks to its sturdy, odourless material, this trunk liner meets the highest demands. Because the trunk liner is very lightweight, it can be taken out of the boot space very easily and put back after cleaning. Due to the large variety of available sizes, a YourSize solution can be found for almost every car. In order to find the best fitting size for your car, please measure the size of your boot space according to the instructions in the image shown above and then choose the best-fitting YourSize boot liner. Please note: always choose a size which is equal or smaller than your boot space, never bigger!
Product features:
Offers the best possible protection of your boot space
Extra high protective side walls
No special mounting required
Including free "Multi-mat" with dual function: anti-slip mat and bumper protection. Easy to install and remove with snap buttons
Odourless PE/HDPE material, acid-resistant and food-safe (RAL C 3 quality mark)
Temperature resistant from -40°C to +80°C
Environmentally friendly, recyclable
10 years Carbox warranty
Made in Germany
EAN: 8719457421949
Returns
Are you not satisfied with your purchase? Please let us know immediately by email at info@carparts-expert.com.
You can return your order within 14 days after receipt.
Returned articles must be complete and - as far as reasonably possible - in the original factory condition and packaging.
For more information about returning shipments, click here.
Ask a question
Does this product fit my car?
Check whether your car corresponds to the description such as car brand, model, year of build and body type (hatchback, station wagon, sedan etc.):
Year of build. Example: a product fits on a car model from 2004 until 2013.

Be careful if your car is from the beginning year (example: 2004) -> your car could be the previous model -> check the Factory code to be sure.
Be careful if your car is from the ending year (example: 2013) -> your car could be the subsequent model -> check the Factory code to be sure.

Factory code. At most products this is mentioned (between brackets). You could check on www.wikipedia.org what the factory code is of your car.
Body type. Please note that a 4-doors, 5-doors or wagon are not the same.
How can I mount the product on my car?
There is a manual available online for most products. Look for the "Assembly manual" icon on the product page and click on it to open it.
When can the product be delivered to me?
Not all products are on stock; some products need a longer time before we can ship it to you. We always mention this availability, below the green order button "Add to cart".
Available from stock = the product is in stock. If you place your order before 15:00 it will be shipped on the same working day.
Shipping within: "X" working days = the product is not in stock. We strive to ship it out in "X" working days.
Do you have another question?
Please fill out the form below.
Boot liner universal Carbox Classic YourSize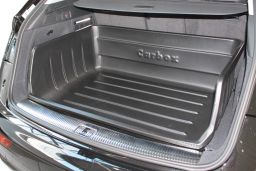 Related categories