Sun shades Opel Vectra B 1996-2002 5-door hatchback Car Shades - set
4.70 /

5.00

- 283 Reviews
- 6 pieces
Car Shades car sun shades of CarParts-Expert are the ultimate solution for undesired sunlight in your car. Unlike cheap alternatives, these car window shades are tailor-made for your Opel Vectra B. You keep a good sight from the inside to the outside. However, it is not possible to look into the car from the outside. Sunlight is blocked, the interior of your car heats up less quickly and less stress is put on the air-conditioning system, resulting in lower fuel consumption. It only takes a few minutes to install or remove the shades. You click the car sun shades in the enclosed mounting clips, which are either slid behind the window seals or interior panels or glued to the window frame and ensure that the sun screens stay firmly in place. It remains possible to open the side windows. The brand Car Shades usually covers the rear window in two parts. If you wish to cover the rear window with a one-piece screen, please take look at our other brands of car sun shades.
Car Shades car sun shades are available as:
1) Complete set: covers all windows, except those of the front doors and the front windshield.
2) Rear side doors only: a cheaper option if you only wish to cover the side door windows.
Product features:
100% tailor made for your car
Steel wire frame with fire resistant polyester fabric
The rear window is covered in two parts
Including handy storage bag
UV-protection
Barrier for sunlight and insects
Driving with slightly opened windows is possible
Luxurious and discrete appearance
Good sight from the inside to the outside, but not from the outside to the inside
Alternative to window foil and universal car sun shades
Easy to install and to remove, using special clips
Safe: dims the light of following traffic and low-lying sun
EAN: 8719457047989
Returns
Are you not satisfied with your purchase? Please let us know immediately by email at info@carparts-expert.com.
You can return your order within 14 days after receipt.
Returned articles must be complete and - as far as reasonably possible - in the original factory condition and packaging.
For more information about returning shipments, click here.
Ask a question
Does this product fit my car?
Check whether your car corresponds to the description such as car brand, model, year of build and body type (hatchback, station wagon, sedan etc.):
Year of build. Example: a product fits on a car model from 2004 until 2013.

Be careful if your car is from the beginning year (example: 2004) -> your car could be the previous model -> check the Factory code to be sure.
Be careful if your car is from the ending year (example: 2013) -> your car could be the subsequent model -> check the Factory code to be sure.

Factory code. At most products this is mentioned (between brackets). You could check on www.wikipedia.org what the factory code is of your car.
Body type. Please note that a 4-doors, 5-doors or wagon are not the same.
How can I mount the product on my car?
There is a manual available online for most products. Look for the "Assembly manual" icon on the product page and click on it to open it.
When can the product be delivered to me?
Not all products are on stock; some products need a longer time before we can ship it to you. We always mention this availability, below the green order button "Add to cart".
Available from stock = the product is in stock. If you place your order before 15:00 it will be shipped on the same working day.
Shipping within: "X" working days = the product is not in stock. We strive to ship it out in "X" working days.
Do you have another question?
Please fill out the form below.
Sun shades Opel Vectra B 1996-2002 5-door hatchback Car Shades - set
6 pieces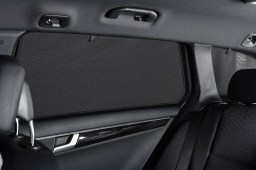 Related categories