Dent repair kit Quixx
The Quixx dent repair kit removes ugly dents and hail damage from most parts of the vehicle bodywork without damaging the surface.
This dent repair kit helps avoiding expensive repairs at car-body shops and supports retention of value by a simple do It yourself solution.
Product features
Simple, fast and effective do-it-yourself use
Removes dents without damaging the paint
Suitable for most dents in flat car body areas
Developed and used by repair professionals
Helps avoid expensive repairs and the car retains its value
Made in Germany
The kit contains all the materials you need for the reparation: 1 repair bridge, 3 pulling /drawing pads (in different sizes), 1 hot glue gun, 2 special glue sticks, 1 plastic stick for the removal of glue residues
Please note! Not suitable for:
- Dents smaller than the pull button (2.5 cm)
- Dents with a tip or edge
- Dents over 8 cm in diameter
- Do not use on repainted vehicles, as there is a higher risk of lacquer chipping!
- The substrate must be resistant to solvents
EAN: 4028778004699
Returns
Are you not satisfied with your purchase? Please let us know immediately by email at info@carparts-expert.com.
You can return your order within 14 days after receipt.
Returned articles must be complete and - as far as reasonably possible - in the original factory condition and packaging.
For more information about returning shipments, click here.
Ask a question
Does this product fit my car?
Check whether your car corresponds to the description such as car brand, model, year of build and body type (hatchback, station wagon, sedan etc.):
Year of build. Example: a product fits on a car model from 2004 until 2013.

Be careful if your car is from the beginning year (example: 2004) -> your car could be the previous model -> check the Factory code to be sure.
Be careful if your car is from the ending year (example: 2013) -> your car could be the subsequent model -> check the Factory code to be sure.

Factory code. At most products this is mentioned (between brackets). You could check on www.wikipedia.org what the factory code is of your car.
Body type. Please note that a 4-doors, 5-doors or wagon are not the same.
How can I mount the product on my car?
There is a manual available online for most products. Look for the "Assembly manual" icon on the product page and click on it to open it.
When can the product be delivered to me?
Not all products are on stock; some products need a longer time before we can ship it to you. We always mention this availability, below the green order button "Add to cart".
Available from stock = the product is in stock. If you place your order before 15:00 it will be shipped on the same working day.
Shipping within: "X" working days = the product is not in stock. We strive to ship it out in "X" working days.
Do you have another question?
Please fill out the form below.
Dent repair kit Quixx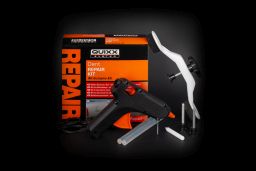 Related categories