Bike carrier Menabo Alcor 2
For 2 normal bikes, 2 fat bikes or 2 e-bikes
- For 2 normal bikes, 2 fat bikes or 2 e-bikes
The Menabo Alcor 2 bike carrier is suitable for 2 bicycles. The sturdy steel frame has a maximum load capacity of 60 kg, making it perfectly suitable for e-bikes. The large aluminum wheel trays can take extra wide tyre sizes, like those of fat bikes. The quick lock system with anti-theft lock ensures easy and secure installation on the tow bar of your car. The bike carrier has a pedal tilting function, to allow easy access to the boot space. The Alcor 2 is supplied as standard with frame clamps without anti-theft lock, but rotary knobs with a key lock can be ordered as an accessory. For easier loading of the bikes it is possible to order the optional Menabo drive-up ramp.
Product features:
Mounting on tow bar
Suitable for 2 normal bikes, 2 fat bikes or 2 e-bikes
Maximum total weight of the bikes: 60 kg *)
Weight bike carrier: 16,2kg
With 13-pin plug (adapter for 7-pin socket can be ordered separately)
Pedal tilting system for easy access to the boot space
Carrier can be secured on the tow bar by means of a key lock
Frame clamps without key lock (rotary knobs with key lock can be ordered separately)
Frame clamps suitable for frame tube diameters from 30 mm round to 50x70 mm
Wheel tray distance: 210 mm
Wheel trays suitable for tyres of up to 110 mm (4.3 inch) wide
Suitable for bikes with wheelbase of up to 1260 mm
Number plate holder suits all European sizes
Dimensions: L 64,9 x W 118,8 x H 75,5 cm
2 years Menabo warranty
*) May be limited by the maximum admissible tow ball pressure on your tow bar. This is shown on the nameplate of the tow bar and the VIN plate inside the car.
EAN: 8003168040125
Returns
Are you not satisfied with your purchase? Please let us know immediately by email at info@carparts-expert.com.
You can return your order within 14 days after receipt.
Returned articles must be complete and - as far as reasonably possible - in the original factory condition and packaging.
For more information about returning shipments, click here.
Ask a question
Does this product fit my car?
Check whether your car corresponds to the description such as car brand, model, year of build and body type (hatchback, station wagon, sedan etc.):
Year of build. Example: a product fits on a car model from 2004 until 2013.

Be careful if your car is from the beginning year (example: 2004) -> your car could be the previous model -> check the Factory code to be sure.
Be careful if your car is from the ending year (example: 2013) -> your car could be the subsequent model -> check the Factory code to be sure.

Factory code. At most products this is mentioned (between brackets). You could check on www.wikipedia.org what the factory code is of your car.
Body type. Please note that a 4-doors, 5-doors or wagon are not the same.
How can I mount the product on my car?
There is a manual available online for most products. Look for the "Assembly manual" icon on the product page and click on it to open it.
When can the product be delivered to me?
Not all products are on stock; some products need a longer time before we can ship it to you. We always mention this availability, below the green order button "Add to cart".
Available from stock = the product is in stock. If you place your order before 15:00 it will be shipped on the same working day.
Shipping within: "X" working days = the product is not in stock. We strive to ship it out in "X" working days.
Do you have another question?
Please fill out the form below.
Bike carrier Menabo Alcor 2
For 2 normal bikes, 2 fat bikes or 2 e-bikes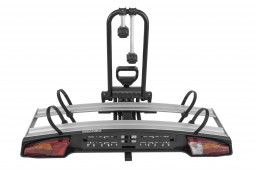 Related categories